Almost without a doubt you clicked this link with one question on your mind: What the hell is Libertarianism? I mean Socialism, sure, everyone knows what that is, and while we might be a bit vague on the details of Fascism, everyone knows the general gist. And good luck not knowing about Atheism and Veganism – no shortage of people willing to tell you about those.
But Libertarianism? The hell is that, and why should I care? Well strap yourself in gentle reader, because it is by far the most powerful and influential political philosophy in the world today. Libertarianism is at the core of modern politics and absolutely crucial to understanding the last 30-40 years of our history – so the fact that so many people have no idea what it is all about is really quite worrying.
To be fair, you likely have heard about Libertarianism in one its many applied forms: neoliberal economics, free trade agreements like the Trans Pacific Partnership, the Tea Party and other 'small government' movements, books like Atlas Shrugged or games like Bioshock are all based on this ideology. And what is this ideology? In one word: Freedom.
To be more specific, "Libertarians seek to maximize autonomy and freedom of choice, emphasizing political freedom, voluntary association, and the primacy of individual judgment". Libertarians believe that the best way to improve the world is to let everyone make their own decisions, and reap the consequences accordingly. Needless to say, they have serious problems with governments, which they see as the A-number 1 limit to human freedom, and any ideology that supports government such as Socialism or Fascism (which they reckon are effectively the same thing). The government should only exist to ensure individual freedoms are protected and otherwise keep their noses out of everyone's business – an argument that certain government agencies are making pretty damn persuasive these days.
From a philosophical point of view Libertarianism draws heavily from an idea called 'Objectivism', developed by a lady named Ayn Rand, who also wrote that book Atlas Shrugged which you may have heard of. According to Objectivism, there is no greater moral goal than achieving happiness, and achieving this happiness requires that individuals live by objective principles, including moral integrity and respect for the rights of others. The specific abilities of each individual should not be restrained by the demands of society, but celebrated and allowed to reach their full potential – thus enriching the world as a whole.
Based on this philosophy, Rand argues that ideas like charity and altruism are not in fact morally good at all, and most definitely are NOT moral duties; by coercing individuals to work for the betterment of others, we limit their ability to fulfil themselves, preventing their happiness and basically holding the world back in the process. The only duty of any person is to themselves, their own development, and their own happiness – any efforts to force people to consider others first must be rejected as immoral, hence the title of her book:
I mean, that would destroy the world, but I see what you're going for.
Funnily enough Rand herself did not support Libertarianism (hilariously calling them "right-wing hippies") but since her ideas support small government and individual freedom, the fact remains that her philosophy both inspired and support the modern Libertarianism movement. And it is a whopper of a movement. Remember last week how I mentioned that the USA has a serious problem with Socialism? Libertarianism is one of the reasons why. Listen to virtually any US politician talk and you're guaranteed to hear the words 'Liberty', 'Rights' or 'Freedom' within 10 minutes. Distrust of the government runs deep and even globally common programs like universal healthcare or gun control are met with extreme suspicion, if not fierce opposition. The fact that Bernie Sanders is considered a far-left winger and an absolute outside chance for the next US election speaks volumes – the man would be considered a moderate leftie in Australia at most.
But it's not just the USA that loves itself some freedom! Across the pond you had good ol' Margaret Thatcher who introduced her own form of Libertarianism to Britain in Thatcherism. She demolished the unions, introduced free trade, cut government spending down to the bone and basically told industry to go nuts – we'll free exceptional individuals from the tyranny of 'society', let them excel and thus bring economic benefits for all.
The Libertarian ideals have spread far and wide, effectively serving as the foundation for right-wing economic politics ever since; 'get your government out of my face and let us get down to business'. Of course this hasn't gelled too well with the right-wing's big love of religion and conservative attitude to social issues ('keep you government out of our business, except for the gays of course'), but the true Libertarians are in there, pushing for greater freedom for all, in all things.
At this point you may be thinking that Libertarianism is a great idea, and there's certainly a lot to like here: you've got a philosophy that uses reality and reason as its foundations. You're encouraging people to excel and fulfil their own potential, and thus their own happiness, which will in turn enrich the world. You've got the limitation of government powers, ensuring they won't abuse those powers as happened with Communism. And you've got the everlasting appeal of liberty – the sweet sweet freedom to make your own decisions and live life how you want to live it! What's not to love about that?
So, Libertarianism must be a perfect ideology to stick with, right?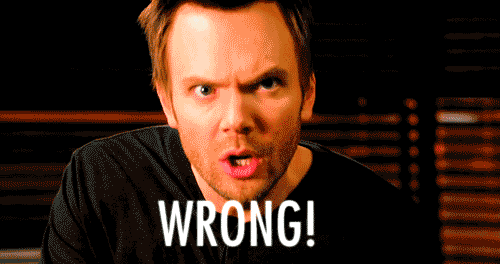 As with many ideologies, Libertarianism sounds great on paper and goes to absolute shit in the details. A quick guide to ideas that sound great: always look at the opposite of the argument. Sure, removing government controls and social restrictions will absolutely help some individuals to excel, letting them reach new and wonderful levels of excellence. But what about those of us that aren't geniuses? What about those of us that are just averagely skilled and don't have any amazing, ground-breaking potential to explore? Ayn Rand makes a big deal about everyone having some genius to them, but there's no denying that some people just… don't. And what about those who could create great works, but can't for reasons that aren't their fault? People with physical or mental disabilities? Or those who will never realise their great potential because they were born in crappy circumstances that never allowed them to figure out their callings?
Oh but these are all minor practical arguments, I hear the Libertarians cry. Obviously our ideal society would ensure that everyone was given a chance to discover and grow their talents! Otherwise you'd just end up with rich and powerful people excelling, while the rest of us clawed for the scraps they felt like leaving us.
But here's the thing fellas; your ideology specifically says that you can't offer everyone an equal starting point. Individual freedom to succeed or fail on one's own merits may sound fair, but only if everyone starts off from exactly the same position – something you may notice never EVER happens now. Modern societies have come up with ways of leveling the playing field a bit, but guess what that involves? That's right: taxes on the rich to support programs to empower the poor. Something you'll notice that Libertarians are absolutely opposed to.
But screw it, let's pretend for a second that such a perfect level playing field was somehow created, and every individual magically started with the same resources and education as everyone else, despite no government intervention. In a Libertarian world, the great would rise up and the lazy and stupid would be left in the dust. Sure the poor would suffer, but since it'd be their own fault, it's only fair. But what happens when the next generation are born? Without government programs like universal healthcare and education, how will the children of the poor be given an equal start to those of the great? And how will the children of the great be given an equal start to the poor kids unless you strip them of all their parent's wealth? And how would you do either of these things in a system that absolutely prohibits anyone messing with personal freedoms?
Boom. Within one generation your perfect system that rewards brilliance and punishes uselessness has become a dystopic nightmare. Those that earned their wealth and fame by their own genius will pass it along to their children – who absolutely did NOT earn it – while the children of the poor will never be given a chance to explore their potential because they'll be too worried about more immediate needs. Like survival. The powerful will naturally use their power to accumulate even more power, while the disempowered poor won't have enough power to do anything about it. Power centralises, corruption inevitably grows, except that we won't even call it corruption now, because success in a Libertarian system is automatically ethical – it's only those who seek to limit the freedoms of others that are immoral.
And congratulations to you, Libertarians, because you just accidentally recreated a god damn medieval feudal state, where a few rich families rule with total control over the many powerless peasants, doing whatever they want because the only right now is might. Very well done.
"Verily, if ye deserved mine station then ye would hold my station. Lift thyself up upon thine footclothes, peasants!"
This may all seem kinda melodramatic of me, but considering the last 40 years of this ideology in practice have seen wealth inequality spike significantly, with governments cutting services and decrying the 'entitlement' of their poorer citizens, it's not exactly crazy talk.
This entire situation illustrates the problem with any ideology built around a sacred ideal – in this case, freedom. Libertarianism is so concerned with promoting individual freedom that it actively ignores situations where such freedoms could lead to bad outcomes. Your system may well reward success and greatness while punishing laziness and corruption, but without a safety net of any kind, those losers are going to plunge into incredible desperation really damn fast. Regardless of whether you think they 'deserve' this (and you'd have to be a real bastard to think incompetence warrants starvation), history tells us that large groups of desperate poor people turn to crime almost immediately, and when survival is your goal, no amount of policing is going to control it.
But none of that matters, does it? Because the only thing Libertarianism is concerned about is freedom and everything else – including quality of life, human rights, and basic survival needs – comes second to that ideal. Considering the sort of hard-nosed pragmatists that typically push the Libertarian cause, not to mention how awesome Ayn Rand through reason and reality were, it's kind of amazing to realize just how hopelessly idealistic the entire ideology is.
I have had Libertarians tell me straight up that "by definition an essential service is something people will be willing to pay for", effectively saying access to a basic standard of living should be based on one's ability to pay for it, and screw you if you can't for whatever reason. They argue that all national parks should be privatized – the fact that they'd almost immediately be stripped for resources doesn't matter; if preserving nature was more important then people would pay enough to make that the more profitable option. And large-scale environmental problems like climate change? Well if they're so important then the market will inevitably sort it out. The fact that the market has been conspiring to do the exact opposite for the last 20 years must mean that it isn't actually important after all!
By focusing on liberty at the exclusion of all else, Libertarianism ironically becomes a hell of a lot more like the Fascism that it despises; a system that celebrates particular values regardless of the actual outcomes those values cause in reality. Such systems are extremely dangerous, not just due to the harm they cause but because they automatically self-justify that harm – the system is right because the system is right, and anyone who suffers as a result must deserve it. It's not just that they allow for massive corruption, they actually justify that corruption as part of the system working well.
To reiterate, this is the ideology has been at the core of western and indeed global politics for the last 40 years and is still at work today. And it is fundamentally, obviously, blatantly broken. I dunno about you, but I find that slightly concerning.